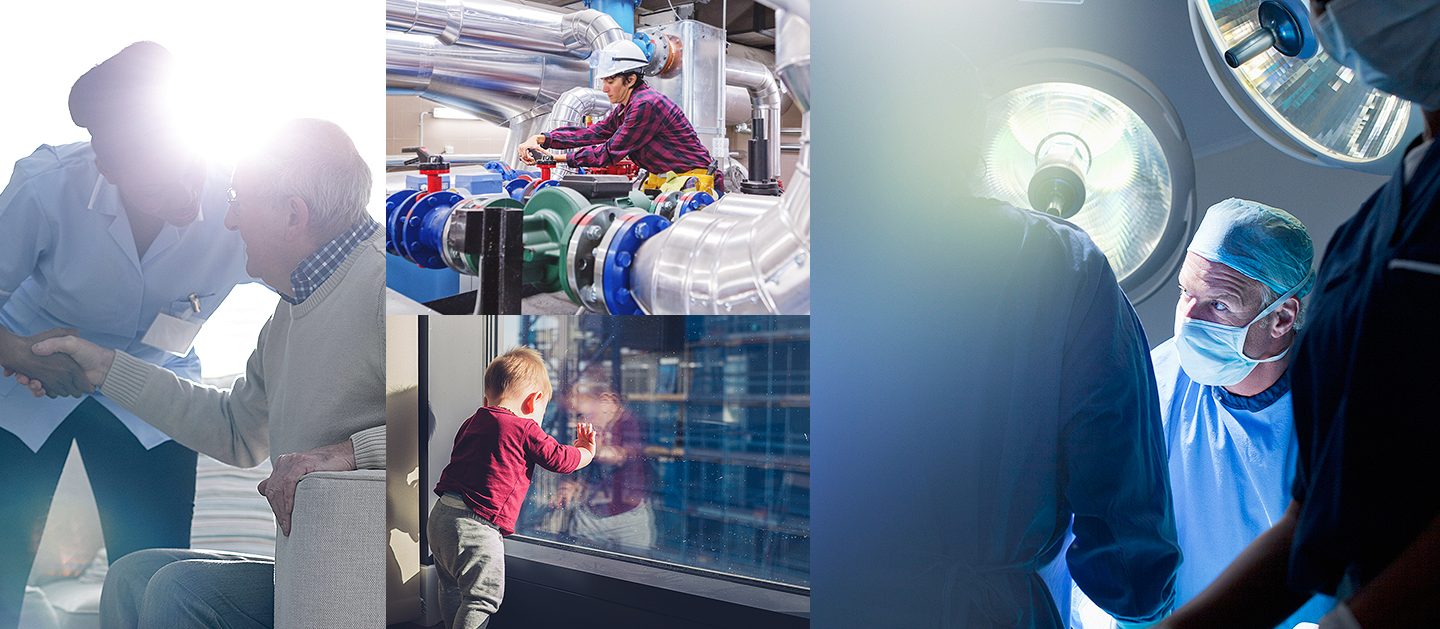 Healthcare & Long-term Care
Generators Powering Lives
From routine and long-term healthcare to emergency response, lives rely on you every single day to perform the services only you can provide. GenCare ensures you have the right power, generator equipment and maintenance in place so you can focus on saving lives and we can focus on powering them.
Generator Solutions on Standby
Power outages can come in different forms, from weather related events, natural disasters, a general blackout, or an equipment failure on the aging power grid. If the power goes out, lives under your care hang in the balance. With 35+ years of experience, GenCare has the power generator solutions to ensure you never go off-line. We have unique knowledge and experience in the healthcare sector including powering hospitals, long term care facilities, and more. We only provide the highest quality diesel powered generators, natural gas generators, and automatic transfer switches to protect your power.
Reliable Power for Essential Life Support
Whether your healthcare facility has 10 beds or 10,000 – backup power is essential when lives are at stake. A reliable backup generator that is maintained properly, will power critical devices in healthcare and long-term care facilities such as life-support systems, blood, bone and tissue storage systems, operating rooms and neonatal intensive care units and much more.
We don't just talk about care.
We generate it.
Powering Healthcare & Long-term Care Requirements
As a provider of healthcare, your power is required to perform under crucial circumstances. GenCare gives you the regulatory maintenance on your generators so you can depend on them when you need them most. With our years of experience in providing essential power to healthcare and long-term care facilities, know that you will be in great hands.
GenCare can assist with the compliance of the following regulations for healthcare and long-term care facilities:
The Ontario fire code
The CSA C282 Emergency Electrical power supply for buildings
The National Building Code
The CSA Z32 Electrical safety and essential electrical systems in health care facilities
The CSA B139 and CSA B149
Electrical Codes
Backed by Licensed Technicians
To meet compliancy, healthcare sectors must complete monthly maintenance on a weekly basis. GenCare will take you every step of the way when it comes to meeting maintenance standards and compliancy. GenCare has fully licensed technicians on staff with years of experience in the generator industry, including:
Diesel Mechanics
Petroleum Mechanics
Oil Burner Technicians
Gas Technicians
Electricians
Powered with Integrity –the GenCare Difference
Fully managed generator maintenance
Licenced service/diesel/gas/petroleum technicians/mechanics & electricians on staff
Detailed generator technical history
GenCare trains clients on how to perform the weekly checks and monthly tests at no charge
GenCare currently services 120 cities, towns and rural areas – our coverage area reaches you.
Upfront pricing, no hidden fees
Lighting Everyday Lives
The County of Wellington has contracted with Gencare for over 10 years. Gencare has given our organization great service and their staff are knowledgeable and very responsive to our needs.
Lighting Everyday Lives
We value Gencare's commitment to quality and fairness and Sifton has trusted Gencare to maintain its building generators for many decades. Thank you for helping us to operate our buildings safely and efficiently.
Lighting Everyday Lives
I have been dealing with Gencare for the past 4 years and really like the customer service experience that is provided to our company. Customer service starts from the office management, technicians, and service area. Technicians are timely, quotes are provided quickly, and service work is reasonably priced. Gencare updates us with any concerns with regards to annuals or upcoming work that they will be performing. Gencare has been amazing to work with and I look forward to many more years of great service.